Platforms at Kubecon 2022
Kubecon on October 25 was a great chance to meet people and discuss emerging ideas for making cloud computing easier and more efficient for practitioners and enterprises. Cloud platforms and platform engineering were a popular discussion item and seem poised to finally offer a path for enterprises to maximize dev/ops cooperation and efficiency. In the interest of better understanding the requirements of such platforms for my role as lead of CNCF's Platforms working group (WG), I spent time talking to leaders and project maintainers developing building blocks for them. The WG plans to provide a guide on capabilities and requirements of typical platforms by the end of 2022.
In particular, the Platforms WG held an "unmeetup" (slides here) where several platform component providers introduced themselves and shared a brief technical introduction to their projects to facilitate awareness and cooperation. Crossplane, Score, Dapr, Rukpak, VCluster, Kratix, kcp and servicebinding.io were all represented and discussed as we seek to categorize functionality and increase compatibility to ultimately reduce complexity for platform engineers and help them succeed.
I shared in our meetup an early attempt at categorizing some of the required functions of a cloud platform, come discuss it in our Slack channel: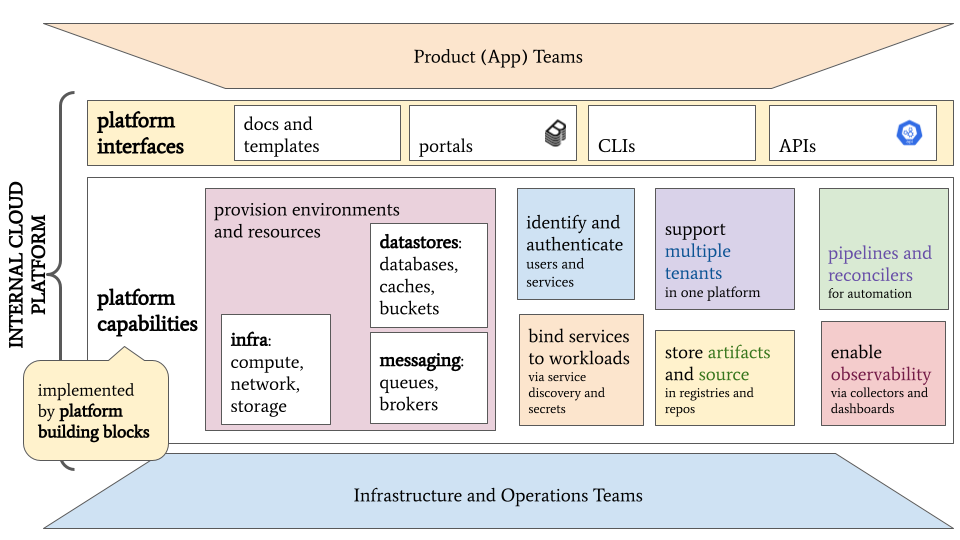 Notable trends
Following are some trends I noted at Kubecon relevant to platform builders:
Conclusion
Cloud platforms and platform teams promise to make cloud-native application development more efficient; and lots of tools and patterns are emerging to make platform builders' jobs easier.
Our next work in CNCF's Platforms WG aims to support these builders by defining key components of a cloud-native platform. We'll also bring together providers of similar component types and seek conventions and patterns to increase compatibility and make usage easier for platform engineers. Join us!